Recently released from a mental institution, Beth Gregory accepts a job as a live-in secretary/PA to the reclusive painter Josh Warrington. From the first moment he sees her, Beth's long red hair fascinates him, and Josh wants her to be his Rapunzel for a series of fairy tale paintings on which he's working.
Beth has two major fears: that she will be sent back to the mental hospital and that the visions which landed her there in the first place will return. They do; this time giving her glimpses of murders before they happen. Beth becomes the main suspect in the murder investigation and then she has the most disturbing vision of all: she will become the next victim…
Grab your free copy:
http://www.amazon.com/Drowning-Rapunzel-Annette-Gisby-ebook/dp/B018SRSI1E/
Drowning Rapunzel is free today and tomorrow at Amazon
Current Mood:

sad


Music: Demons by Imagine Dragons
Dragon Age footage from trailers by Bioware.
Made for fun, not for profit.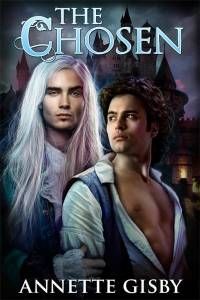 The Chosen
by Annette Gisby
M/M Romance/Fantasy
Get the book for only 99 cents at Smaswords
https://www.smashwords.com/books/view/326842
Cover art by Ravven
http://i20.photobucket.com/albums/b219/eriador117/smallchosen_zps84ba716b.jpg
The neighbouring kingdoms of Oscia and Arcathia have been at a tentative peace for three years after centuries of warfare. Prince Severin of Arcathia has been brought up to put duty before all else and as the only son of the King and Queen, it is his duty to marry and produce an heir. His parents want him to marry an Oscian princess to cement that tentative peace. Unfortunately Severin isn't interested in princesses. Now, if he had his pick of princes that would be another matter.
Havyn has been a slave all his life. When his aptitude for wizardry is discovered, he finds himself purchased and freed by Prince Severin and apprenticed to the royal wizard, Ildar. His duty is to stay chaste to keep his powers strong, but his feelings for Severin sorely test his resolve.
With kingdoms at war, the throne hanging in the balance, magic in the air, and outside forces trying to keep them apart, can the two men find happiness together, or is duty more important than love?
Promotional price: $0.99
Coupon Code: AV92N
Expires: January 3, 2015
Take care,
Annette
Title:
Calendar Boy
Author(s)/Artist:
Eriador117
Prompt(s):
Reunion/Reunited
Rating/Kinks:
R, voyeurism, masturbation, pre-slash.
Warnings:
Drag mouse over space if you wish to know: *
Voyeurism, age difference
*
Word Count:
3,900 approx
Summary:
Harry and his friends are back at Hogwarts for their 8th year and Professor Snape makes an interesting discover in the Charity Calendar edition of Witch Weekly. But you should never believe everything you see.
Author Notes/Disclaimers/Betas
Happy HP Reunion Day :)
(
Calendar Boy
Collapse
)


I've been through some of the tagged fanvids and there are indeed some youtube videos appearing - why isn't mine? I'm at my wits' end here ;) It's not a private video or anything like that.

Can anyone help? Thanks!

Annette
So, I've been trying for over an hour to embed a fan video at A03 but it is just not appearing. I've been through the instructions, added on the http: as youtube normally leaves it out, have tried both the old and new embed codes from youtube but my video is still not appearing on the post! I've also made sure the quotes are straight not curly, as sometimes that can be a problem too. I don't know what else I can try.